BGSA is a registered graduate student organization that serves as a support group to many graduate and professional students. We foster an academic, professional, and social environment for our members. We also serve as an aid in advocating the needs and concerns of black graduate and professional students. BGSA wants you to get involved so you will have the opportunity to expand your network and support from students who look like you!
2020 – 2021 Executive Board
President
I'm Vanessa Kwarteng, a 3rd year PhD student and NSF Fellow in the School of Mechanical Engineering studying sociotechnical modeling and reinforcement learning in residential communities. I have served as the Academic and Professional Development Chair and now I am the President of BGSA. In my free time I enjoy playing tennis.
Vanessa Kwarteng

Vice President
Hi! I'm Myson Burch and I am a 4th year PhD student and NSF Fellow in the Computer Science department studying computational techniques in genetics and data science. I have served as the Undergraduate Outreach Chair and now am the Vice President of BGSA. I am a video game and anime fan and love to play basketball!
Myson Burch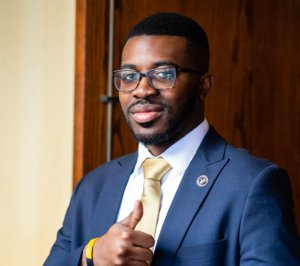 Treasurer
Terrell Glenn is a PhD student in the School of Mechanical Engineering at Purdue University as a National GEM Consortium Fellow, George Washington Carver Fellow, and an NSF Graduate Research Fellowship Program Award winner. Prior to joining the Convergence Design Lab at Purdue, Terrell received a B.S. in Physics from Morehouse College in Atlanta, Georgia (2016). Since joining the Lab, Terrell has published one first-author paper to the ACM CHI 2020 Conference on Human Factors in Computing Systems. Terrell is also actively involved in the community, leading workshops in Toy Design (Grades 7-8) and Smart Toys & Robots (Grades 9-12) for the Gifted Education Research and Resource Institute at Purdue (2017-2019), leading a virtual workshop with an Introduction to Physical Computing (Grades 9-11), starting the Indianapolis STEAM Fair for underrepresented minority students, and serving as a mentor in several youth mentoring programs in Indianapolis and Lafayette. Terrell plans to graduate with his Ph.D this year.
Terrell Glenn

Secretary
Hello! My name is Jazmin Marks-Burns and I am a 2nd year Masters student studying microbiology in the Department of Biological Sciences. I currently study the genetic aspects of thermotolerance in Salmonella enterica serovar Typhimurium. I am grateful to serve as the Secretary for the 2020-2021 BGSA Executive Board so feel free ask me any questions about BGSA! I enjoy spending time with friends and family, watching films and TV series, cracking jokes, and you will always catch me listening to music.
Jazmin Marks-Burns
Banquet Chair
Ashlee Colbert is a fifth-year Ph.D. Candidate from Gainesville, GA. She is currently studying biomedical engineering at Purdue University where she focuses on infectious disease diagnostics for developing countries using smartphone technology under the advisement of Drs. Jacqueline Linnes and Tamara Kinzer-Ursem. Throughout her time at Purdue University Ashlee has acquired numerous awards and honors for various presentations including the Purdue 3 minute thesis. She enjoys presenting her work at any opportunity given and has had the chance to travel the world with her research visiting the likes of Kenya, and Canada. She is also an active member and past president of the Purdue Black Graduate Student Association (BGSA).
Ashlee Colbert

Social Chair
Hello there! I'm Arianna Rambaram, a second-year master's student in the Civil Engineering department in Dr. Nadia Gkritza's Sustainable Transportation Systems Research Group. I have the pleasure of serving as BGSA's social events chair. This role has allowed me to provide this organization's hard-working students with a place to relax, socialize, have fun, and forget about school for a while. I enjoy volunteering, learning how to do intricate hairstyles, and hanging out with friends (or at least FaceTiming them)!
Arianna Rambaram
Social Media Chair
My name is Rasul Diop and I am a 3rd year PhD student in Environmental and Ecological Engineering doing research on heavy metals and water quality . I am from Dallas Texas and attended Prairie View A&M University and graduated with a bachelor's in Civil Engineering. I served last year as Social Chair and currently I am serving as Social Media Chair for BGSA. I love nature, travel, sports, investing, video games, and social activism.
Rasul (RJ) Diop

Academic & Professional Development Chair
Hi, my name is Nathan. I am a current 2nd year Master Student and GEM Fellow at Purdue University studying Electrical & Computer Engineering. I also work as an Engineering intern at The MITRE Corporation year-round. My research interest is in the Internet of Things development and Machine Learning implementation. My current role in BGSA is Academic and Professional Development Chair. Outside of Engineering, I enjoy comics, video games, and mentoring.
Nathan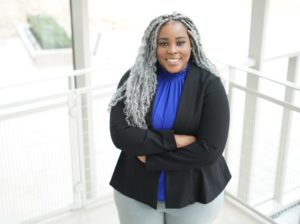 Undergraduate Outreach Chair
Hey everyone! My name is Fantasi Nicole and I am a 2nd year PhD student in Engineering Education here at Purdue. I use Black Feminist Thought to analyze the dialectical relationship between oppression and activism for Black women in engineering graduate programs and beyond. I am currently the Undergraduate Outreach Chair for BGSA. I enjoy plus size modeling and traveling.
Fantasi Nicole